2021 WEBINARS- PhD's TALENT VALORISATION & DEVELOPMENT
Talent Development training path for PhDs and postdocs
In-depth contents to explore the job possibilities also beyond academia and to give a guide on the "must-haves" to start a successful career.
Activities in co-design with students' representatives and SISSA Club
The webinars will delve with experts. Stay tuned for next webinar.
​PAST
17th June 2021 STORIE D'INNOVAZIONE E VALORIZZAZIONE. Il caso Rachael, la startup dei big data > more info here
14th May 2021 Job Search Skills: tips and tricks to communicate your value  > more info here
23rd April 2021 Finding your way around the job jungle > more info here
5th March 2021 OPEN SOURCE. A general introduction to its economic value and the open source licenses > more info here
---
SPECIAL SISSA's PROJECTS
---
Collaboration and participation in ORIENTATION & RECRUITING EVENTS
JobFair - The job meeting of the excellence Italian Schools

exclusively dedicated to the PhD students, PostDocs and Alumni of Scuola Internazionale Superiore di Studi Avanzati - Trieste; Scuola Superiore Sant'Anna - Pisa, the lead partner of the project;  Scuola Universitaria Superiore IUSS - Pavia; Scuola Normale Superiore  - Pisa; Scuola IMT Alti Studi - Lucca and GSSI Gran Sasso Science. JOBfair is aimed at starting a direct interaction between the leading Italian and international companies and the world of academic excellence, where Students, PostDocs , Alumni will have the opportunity to have one-to-one meetings with the companies.Institute - L'Aquila.
          The JobFair 2020 took place totally Online on 21st and 22nd October > https://www.santannapisa.it/it/jobfair-il-job-meeting-delle-scuole-di-eccellenza-italiane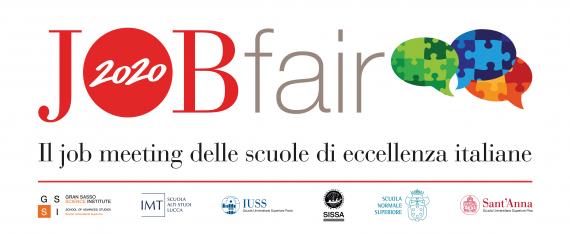 From JobFair the new JobFair Colloquia 2021 are born > more info here
Virtual Fair - Borsa del Placement

. It's the Career Day online which give the possibility to have interviews with companies
           The Virtual Fair 2020 took place totally Online on 30th November >  https://www.borsadelplacement.it/

Campus Party

. It's the largest international event on innovation and creativity, a 24H event in which to learn, find work, meet international speakers, network, participate in hackathons, win prizes and
           The Campus Party Digital Edition 2020 took place from 9th to 11st July >  https://spotlight.campus-party.org/