Luogo:
Volvo Congress Center di Bologna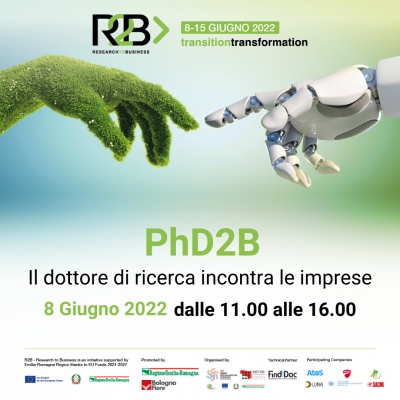 The news is in Italian because the evet will be in Italian.
Evento organizzato nell'ambito di Research and Business per favorire il matching tra dottorandi e imprese emiliano-romagnole.
La modalità del colloquio sarà di gruppo (Assessment Center) per valorizzare oltre che la specifica expertise settoriale,anche le soft skills e capacità relazionali che in un incontro one-to-one tradizionale probabilmente rimarrebbero nascoste agli occhi del recruiter. I colloqui di massimo 10 partecipanti verranno facilitati da una specialista di Find Your Doctor e vedranno la partecipazione di un/una referente aziendale delle sei aziende interessate ovvero Atos Italia Spa, Ducati Motor Holding, Gecosistema Srl, Luna Partner Srl, Philip Morris Manufacturing & Technology Bologna Spa, Sacmi Imola S.C. 
Iscrizioni entro il 2 giugno 2022 compreso
PhD2B 2022 – Research to Business (rdueb.it)