Date:
09/11/2021 - 09:00

to

11/11/2021 - 18:00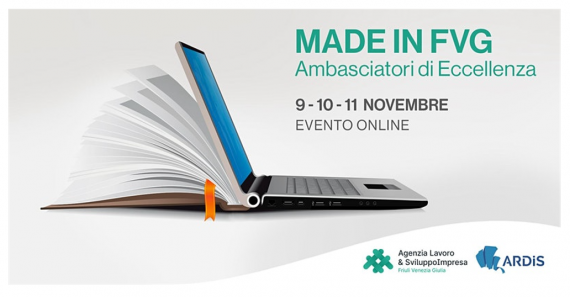 *THE NEWS IS IN ITALIAN SINCE THE EVENT WILL BE HELD IN ITALIAN
MADE IN FVG: Ambasciatori di Eccellenza
9 - 11 novembre 2021 ore 15:00
I primi tre dei cinque eventi online del Progetto "MADE IN FVG: Ambasciatori di Eccellenza" proposti da Agenzia Lavoro & SviluppoImpresa e Agenzia Regionale per il Diritto allo Studio ARDiS in collaborazione con le Consulte Provinciali Studentesche dell'Ufficio Scolastico Regionale, e svolti in stretto raccordo con la Direzione centrale competente per il lavoro.
Ogni evento presenta un imprenditore/imprenditrice regionale che racconta il proprio percorso personale: dalla formazione, alle esperienze precedenti, al lavoro attuale.
Online sulla piattaforma Zoom!