Date:
10/10/2022 -

10:30

to

11:30
Luogo:
IUSS PAVIA, Aula Magna - Sala del Camino o Zoom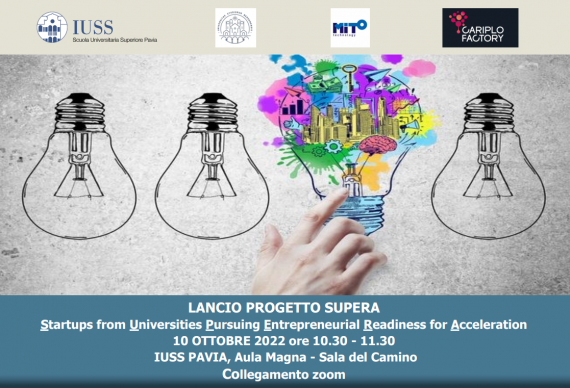 The news is in Italian because the call will be in Italian.
SUPERA – Startups from Universities Pursuing Entrepreneurial Readiness for Acceleration – è la nuova iniziativa dedicata alla identificazione, selezione e formazione di startup e team promettenti che potranno accedere più facilmente alla vasta gamma di rete ed applicazioni promossa da Cariplo Factory presso Milano Innovation District (MIND).
La call è un'iniziativa del consorzio SUPERA, costituito da tre stakeholder chiave: Scuola Universitaria Superiore IUSS ed Università degli Studi di Bergamo con il supporto di MITO Technology, partner tecnologico esperto in attività di trasferimento tecnologico e finanziamento di proof of concept e capitale di rischio.
INTERVENGONO
RICCARDO PIETRABISSA, Magnifico Rettore - Scuola Universitaria Superiore IUSS Pavia
GIUSEPPE CONTI, Direttore Generale - Scuola Universitaria Superiore IUSS Pavia
FRANCESCO DE MICHELIS, Amministratore delegato - MITO Technology
TOMMASO MINOLA, Direttore del CYFE (Center for Young and Family Enterprise) - Università degli studi di Bergamo
L' evento si svolgerà in modalità mista e sarà rivolto a tutte le start-up neo costituite o che sono in fase di costituzione.
L'invito è esteso a tutti i ricercatori, assegnisti e dottorandi delle Scuole Universitarie Superiori ad ordinamento speciale.
L'iscrizione è obbligatoria. Per partecipare in presenza inviare una mail a terzamissione@iusspavia.it entro il 6 Ottobre 2022.
Per partecipare da remoto accedere al seguente link ZOOM: https:// iusspavia.zoom.us/webinar/register/WN_MNhS5sqzR0mexN1ZlVCeZw