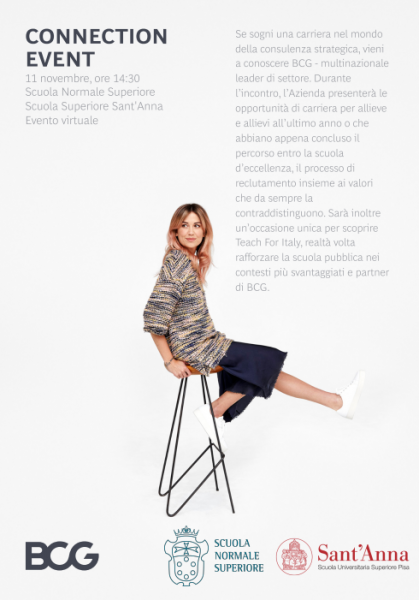 *THE NEWS IS IN ITALIAN SINCE THE EVENT WILL BE HELD IN ITALIAN
Organizzato da Scuola Normale Superiore e  Scuola Superiore Sant'Anna di PISA un incontro virtuale con Boston Consulting Group, incontro di recruiting e orientamento sul mondo del consulting.
Verranno presentate le attività di BCG, approfondite le attività di Teach for Italy che BCG supporta da qualche anno e approfonditi i processi di recruitina a cui poi gli interessati potranno partecipare. 
Chi si iscriverà al webinar avrà la possibilità di inviare il proprio CV che verrà poi condiviso con il Recruiting Team di BCG. 
L'evento si terrà su piattaforma ZOOM con link  fornito direttamente dall'organizzazione a chi si iscriverà.
Per iscriversi: inviare una mail a placement@sns.it (eventualmente allegando CV se interessati a recruiting). C'è tempo fino al 10 novembre ore 12.00