Date:
05/12/2022 -

11:00

to

12:00
Luogo:
Urban Center, Corso Cavour 2/2, 34132 Trieste
The event will be held in Italian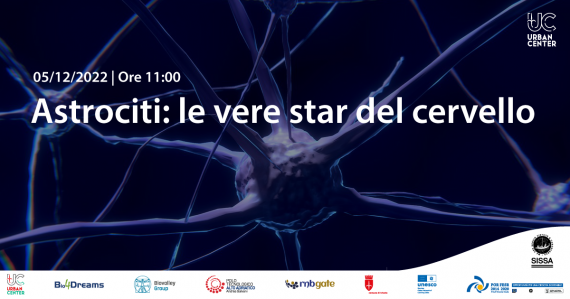 I neuroni sono solitamente conosciuti come gli attori principali nello sviluppo e nel funzionamento del cervello. In realtà da soli non potrebbero funzionare: ora sappiamo che gli astrociti, cellule "stellate" nel cervello, sono fondamentali- fra le tante cose- per la formazione e il funzionamento delle connessioni elettriche, e hanno proprietà speciali nei primati che lasciano pensare a funzioni specifiche nel loro cervello.
Durante l'evento, la dottoressa Carmen Falcone presenterà lo stato dell'arte della ricerca su astrociti, cellule fondamentali per sviluppo e funzionamento del cervello, insieme ai neuroni. Verranno presentate le potenzialità che presenta lo studio degli astrociti nell'ambito dell'evoluzione e sviluppo del cervello umano, e nell'ambito di malattie del sistema nervoso, attraverso la condivisione della nostra ricerca.
Ingresso gratuito.
Più informazioni sulla Ricerca del Falcone Lab qui: carmenfalconelab.com